---
2007 Santa Cruz Coed Tourney Champs!


The Squad (as pictured below): Rob Robbins, Jeff Burgess, Derek Jostad, Chris Castillo, Doug Sykes, Tim Jacobs, Amy Sullivant,
Ellen Onken, Jesko Onken, Jenny Jongejan, Delf Scepanik, Shauna Grillo, Siobhan Donovan.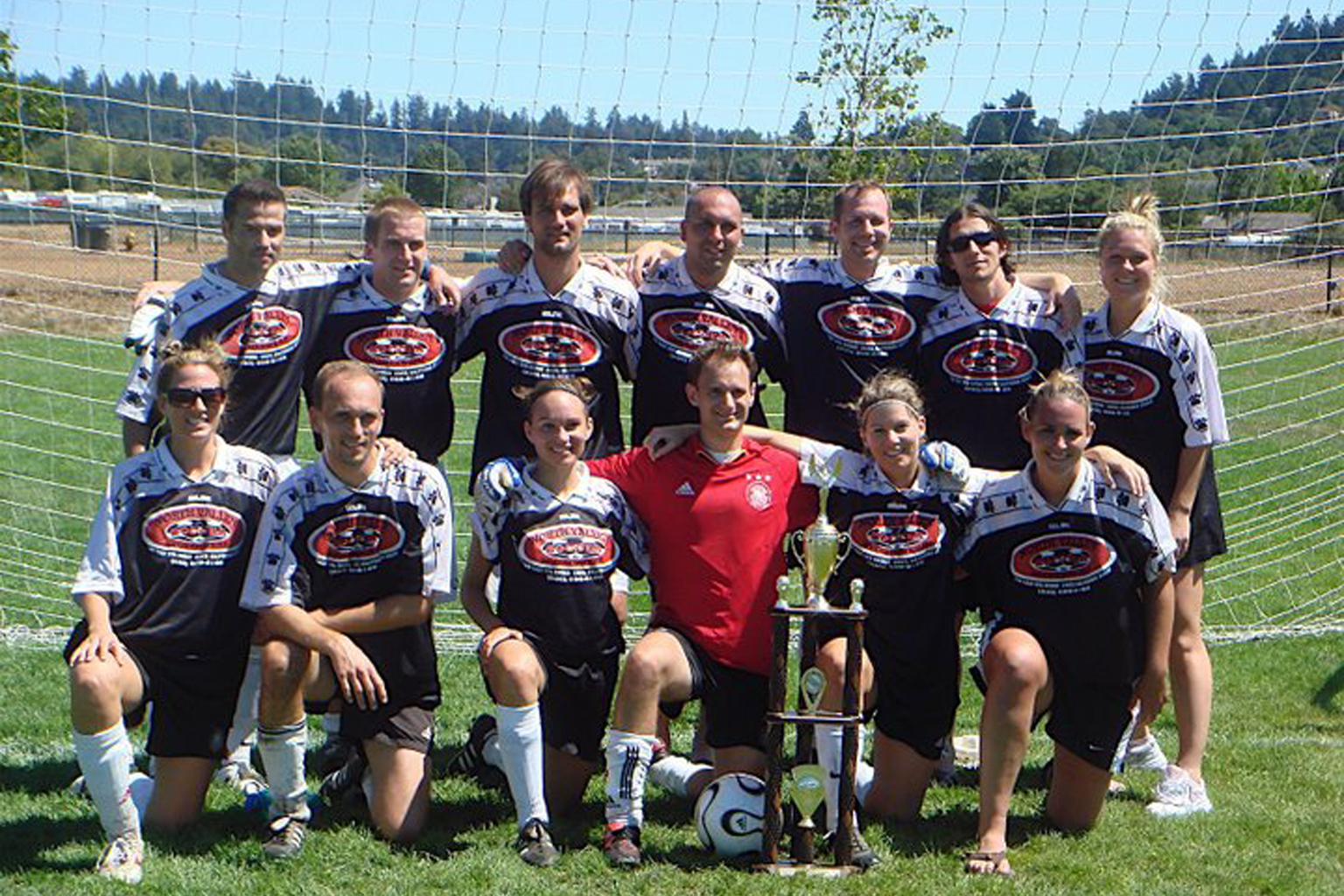 Well, last weekend was a glorious one indeed. The SF Celtic coed team travelled down to Santa Cruz to play in the 7v7 coed tournament for the 6th year straight, and the end result was spectacular. The squad has made it to the competitive division finals every year that they've entered this tournamant, so expectations were high for a repeat performance. Fortunately, our heroes were up to the task and did not disappoint. With a tough 1st game on Saturday morning, one which ended 8-8 and resulted in a loss for the Celtic crew after penalty kicks, the lads and lasses came back with a vengeance in their second game to end the day with one win and one loss. Their third game on Sunday morning was a must win if the crew wanted to advance to the semifinals; mission accomplished with a resounding 7 to 1 victory. So it was on to the semis, and Celtic once again stepped it up to earn the 5-3 win. The final game was somewhat anticlimactic as both teams were fatigued and worn down, but our side played brilliantly and managed to completely dictate the pace & tempo of the entire match. Our champions ended the weekend by beating their last opponents 6 to 1 and walking away with the 1st place trophy and some nice championship t-shirts. Nicely done and much thanks to all those who played!! And a special thanks to Troy Mayers, who runs the Santa Cruz tournaments every year, and who always does a terrific job!
---
Previous Results
---
Since the inception of the SF Celtic coed team back near the beginning of 2002, the hooped-crusaders have managed to do quite well in the various leagues and tournaments that they have played in. In just league play alone, the squad has finished with a championship title 3 out of 4 seasons in which they participated (and they finished 2nd place during that non-championship season). As for tourneys, the crew has now entered 6 different tourneys and has walked away with 1st place three times (with, once again, a 2nd place finish the other times).


---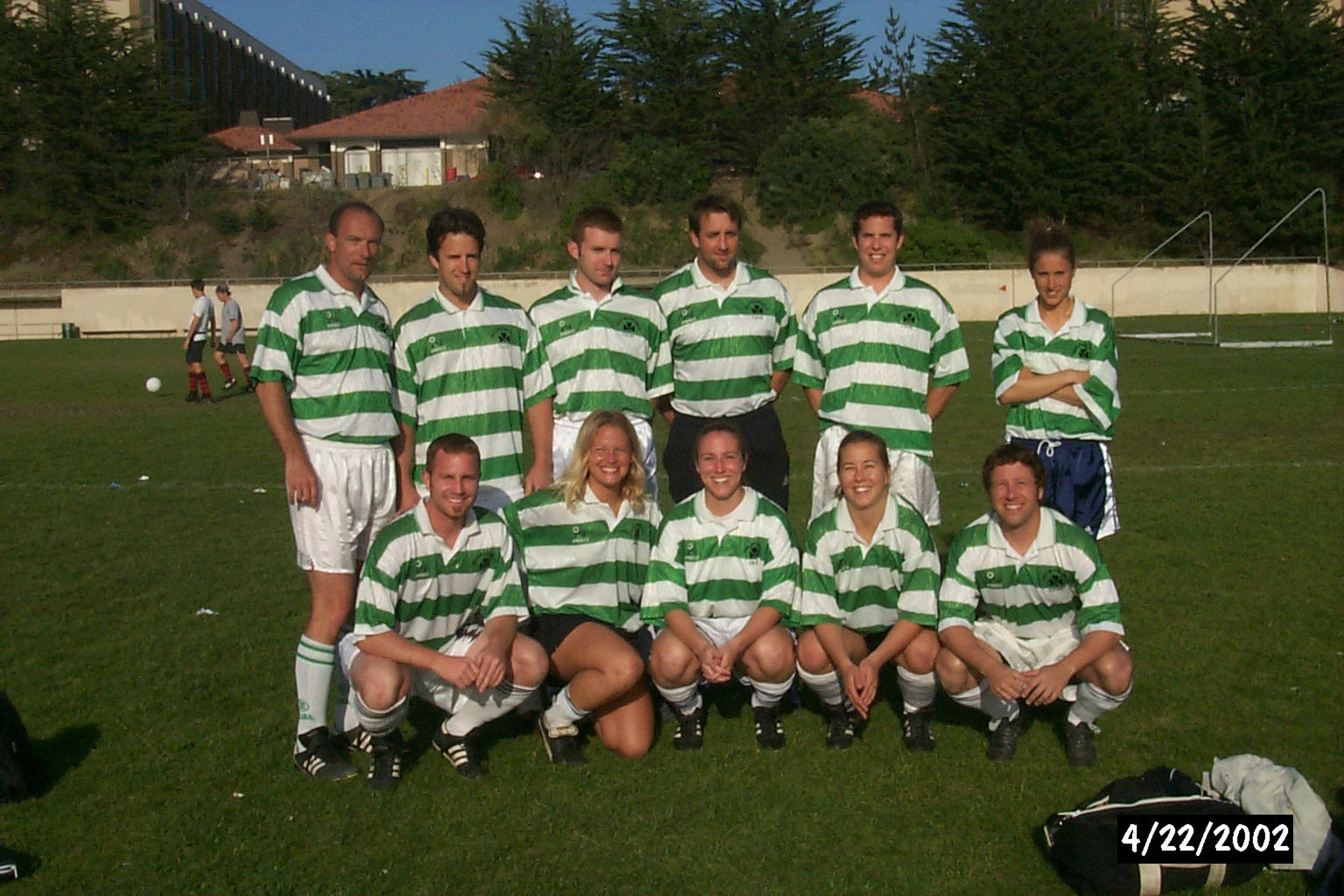 The Original Squad (as pictured above): [top, from left-to-right] Peter Stubbs, Jefferson Hunter, Mark Smith, Sean McIntyre, Alan Purser, Amanda Danaher, [bottom] Doug Sykes (manager/captain), Tracy Mahachek, Jessica Zysk, Ann-Marie Moore, Mike Fryer.


---
5.24.04 (Final/Championship match)
SF Celtic 1 - 0 Seahens

5.17.04 (Semi-final match)
SF Celtic 5 - 0 Ten Left Feet

5.10.04
SF Celtic 0 - 0 Seahens

5.3.04
SF Celtic 0 - 1 Ten Left Feet

4.26.04
SF Celtic 1 - 0 Flying Pigs

4.19.04
SF Celtic 1 - 0 Seahens

4.12.04
SF Celtic 3 - 1 Ten Left Feet

4.5.04
SF Celtic 5 - 0 Flying Pigs